How Golden Moments became the king of durian desserts in S'pore
Growing up, Josiah Jeremy never thought of running his own business.
He had worked at a corporate company for the past five years and finally took a leap of faith outside his comfort zone to create his own durian brand.
"I'm glad I did it because I'm passionate about it," said the 32-year-old.
Josiah founded Golden moments in 2017, which launched with its first product: Signature 100% Mao Shan Wang Snow Skin Mooncake.
"The response was overwhelming and we achieved a six figure digit with our product out of stock in a month," said Josiah.
This remains their best-selling product to date, with over 400,000 pieces sold to date. This is not surprising, considering that Golden Moments is a pioneering player selling durian mooncakes in Singapore, and it actually does it well.
For durian lovers, by a durian lover
From day one, Josiah had always envisioned a brand that lives and breathes Durian.
Golden Moments was based on the idea of ​​bringing families and loved ones together through the shared love of Durians.
This is also how their brand emerged: they wanted to defend the essence of the brand to "treasure the golden moments and celebrate relationships".
"As a durian lover, we aspire to be the durian revolution by creating cutting-edge gourmet durian delicacies that are farm-to-table fresh," said Josiah.
While Durians are generally well loved among Singaporeans, it is an acquired taste and some people may not be able to stand their pungent smell.
So diving into a durian food and drink business could mean that there's a chance that you may not be able to capture everyone's hearts and taste buds. Regardless, he was determined to launch Golden Moments because of his passion for Durians.
Although he loves Durians, he is aware that they are not easy to work with. For one, they have a higher product cost compared to other fruits.
Additionally, Golden Moments only uses Mao Shan Wang's durian which are "unrivaled AAA grade", which is more expensive than other durian grades.
"We also have to work closely with the durian plantation partners to get a steady supply of durian."
"Lastly, we need to be very insightful and knowledgeable about this commercial market for durian as they are seasonal fruits and prices fluctuate from season to season."
Innovation is in its DNA
Although Golden Moments started with a moon cake product, it has quickly expanded beyond this traditional delicacy.
In 2019, it launched a host of product offerings such as the Signature Mao Shan Wang Galaxy Cake, Golden QQ (durian balls that are 'mochi'), and Dark Chocolate Mao Shan Wang Durian Macaron.
The macaron in particular is one of the few products that has since been discontinued.
"The gap was due to the purchasing behavior of customers. They prefer to eat macarons in a restaurant before tea, rather than shopping on FMCG channels, "Josiah explained.
In 2020 they picked things up with newer offerings like Hokkaido Durian Cheesecake, Freshly Packaged Durian, Chocolate Vanilla Durian Cream Choux, Mao Shan Wang Durian Puffs, Premium Durian French Crepe, Plus Cake Variations of durian and a fruity series of golden chocolates.
According to Josiah, Golden Moments introduces new products every half year to keep things fresh.
He is personally involved in the research and development (R&D) stage of products to help maintain the company's high and strict standards when it comes to product quality.
"I would work very closely with the R&D team to create these products, and I would have focus groups to get feedback and pinpoint the taste, look and feel of the product."
In general, the entire product development process can take anywhere from six months to up to a year.
Josiah explained that there are different stages to this process. First, they needed to conduct research and surveys to gain insight into what kinds of trending products and flavors are already on the market.
"Then we will have our R&D team work on it and ensure that all products meet food safety requirements with prior laboratory testing. Then the marketing team will plan how to launch the product on our online and offline channels by clicking on our social media platforms. "
Fix Your Durian Cravings Anytime, Anywhere
Customers can enjoy Golden Moments fresh durian treats with their island-wide delivery service, which promises to deliver them to your door in under 90 minutes so you can satisfy your durian cravings anytime.
"We pride ourselves on keeping our durian treats fresh. We carefully put items in cooler bags and make sure the delivery process is fast and efficient so orders stay cold (throughout the delivery), "said Josiah.
Alternatively, Golden Moments is also available on major food delivery platforms such as GrabFood, foodpanda, and Deliveroo, as well as e-commerce platforms such as Shopee and Qoo10, as part of their delivery expansion efforts.
Josiah said they have received many online orders from customers since then, including during the breaker period, in which many are forced to stay home.
When their durian cravings hit they can simply order durian treats from Golden Moments with a few clicks.
In addition to online channels, Golden Moments has recently entered distribution channels such as local supermarkets such as NTUC FairPrice and HAO mart, as well as Shell, Cheers, and many more, as part of its ambition to have a presence in most retail channels. FMCG.
"By expanding our presence to offline channels, customers can fix their durian cravings anytime, anywhere. We want our products to be convenient, accessible and affordable for our customers, "he said.
Jeanette Aw joins Golden Moments
Most recently, local actress, filmmaker, and pastry chef Jeanette Aw has been named Golden Moments' new creative director and brand ambassador.
Commenting on this appointment, Josiah said that his values ​​resonate with the values ​​of the brand. In addition, she has a background in baking, as the actress is a baker trained at Le Cordon Bleau.
He was also involved in the film publicity for Golden Moments, where he wrote, directed and acted in the brand's first short film to be released in due course.
As a fervent Golden Moments fan, it is noteworthy that she has since joined the Golden Moments family.
This Mother's Day, Jeanette makes her debut as the face of Golden Moments, promoting her new Super Mama Rosette Cake.
The luxurious six-inch Rosette Cake is smooth and creamy, with delicate layers of charcoal buttercream, count gray floral sponge, and pure Mao Shan Wang durian puree.
Sticking with such special occasions is important because "sales typically peak at 300 to 400 percent" during this period, Josiah revealed, adding that they will introduce another cake for Father's Day.
You fight before success
In 2018, Golden Moments received a financing of 1 million Singapore dollars from Ivan Lee, who is also the founder of Thai Express Group.
Josiah counts his lucky stars so he can find an investor and mentor who believes in him and the business. Beyond being a sounding board, Ivan leverages his knowledge and experience by providing advice and support, closely guiding him on his entrepreneurial journey.
Although the homegrown brand has been successful today, its startup journey was not a bed of roses.
"At the beginning, people around me were doubtful and skeptical about how a durian FMCG (fast moving consumer goods) consumer goods company was looking to succeed. Hopefully, I chose to believe in the vision and mission, as well as the potential of what I was starting. "
He ignored the naysayers and stood his ground. Today, Golden Moments has become a household name that is synonymous with durian delicacies.
When asked about the challenges in the early days, he said that being new to the industry, he had to constantly be on the ground. This meant being practical in everything from manufacturing, production forecasting, inventory, fulfillment, and even branding.
The production forecast, in particular, was a real challenge, shared with Josiah. While increased sales are often a good sign for your business, it can also present a real challenge.
When this time of year comes, the team is very busy. They would receive 300 to 400 deliveries a day, reaching a peak of 600 deliveries a day.
Compliance with logistics then became another challenge, mimicking a domino effect.
"We had to meet with 10 different logistics partners to work with and establish a framework for smooth compliance. During peak periods, we make sure to involve more logistics partners to better cope with increased orders, "he shared.
Another big challenge is hiring the right team. It's not easy to hire the right team with the right vision and values ​​to move your business in the right direction.
Josiah expressed that he is happy to be working alongside a team that is willing to undertake this journey with him and quoted the saying: "If you want to go fast, go alone. If you want to go far, go together ".
Hitting the gold despite Covid-19
When Covid-19 hit last year, it marked one of the most difficult times the company has faced since its inception.
"Our booths at the Mid-Autumn Festival were affected and we had to get things online and (change our) focus there. There were between 300 and 400 deliveries on demand every day, and the team had to make sure all orders were fulfilled on time and accurately. "
Despite having no pop-up booths, Golden Moments managed to set a sales record of S $ 1.5 million in one month.
This could also be attributed to the unique and interesting mooncake flavors it featured last year like Lychee Martini, D24 Durian, and Docello Hazelnut.
That same year, she also partnered with local goldsmith jewelry brand SK Jewelery to launch a limited-edition 24K Truffle Mao Shan Wang snow fur moon cake that costs a whopping S $ 888.
According to their market research, this limited edition set, which came with a 24-karat gold bar, is the "most expensive moon cake in Singapore and probably Asia."
It is also interesting to note that Golden Moments has successfully "sold" all of their mooncakes during the Mid-Autumn Festival for the past four years, which is a testament to the popularity of their mooncakes.
Durian is undoubtedly the king of fruits, and it's no exaggeration to say that Golden Moments has successfully risen to become the king of durian desserts in Singapore.
Featured Image Credit: Golden Moments
Riley Reed's Sunday night routine will inspire yours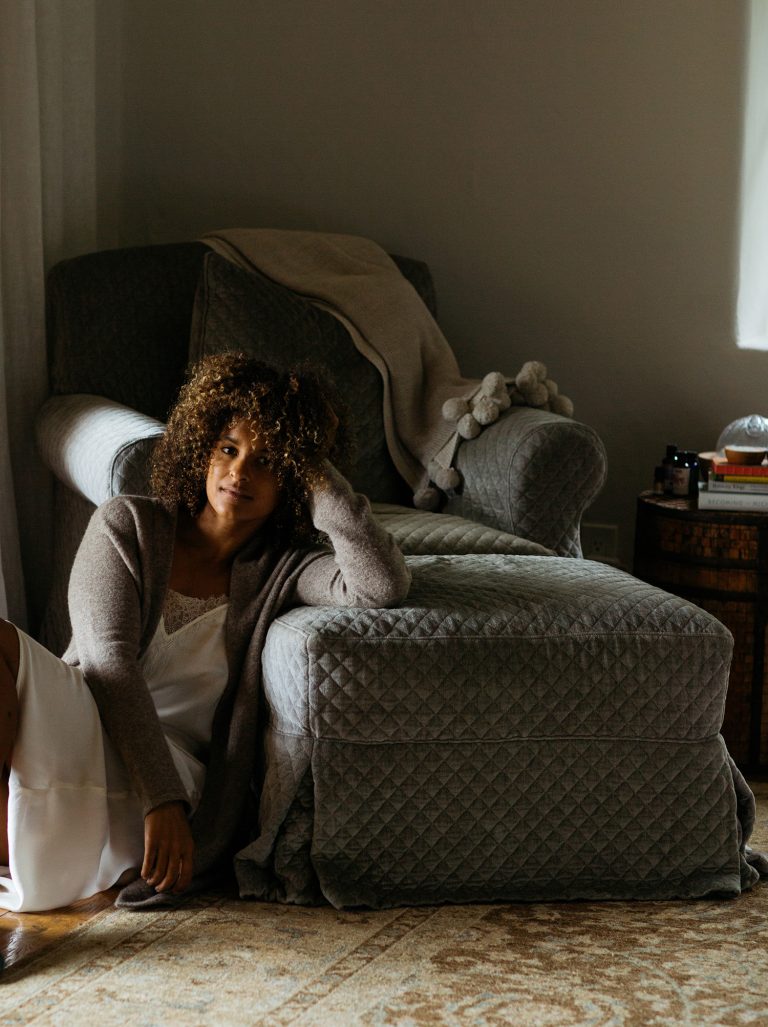 "I didn't always know what I wanted to do with my voice, I just knew I had to do something."
And so he did. Three years ago, Riley reed challenged the status quo and what it means to be an artist with the launch of his creative studio, Woke up the beauty. Reading the insightful prose that accompanies the stories of the subject it captures is akin to witnessing the magic. Whether it's helping us rethink life and purpose through poetry with Arielle Estoria or showing us how to live with joy and liberation like Keon Saghari, Reed's pencil and paper is his microphone, and we are all ears. "What I've come to find the most is that the birth of Woke Beauty awakened something inside of me." she writes. "No amount of words could express my gratitude." The feeling is mutual.
It's safe to say that we are emotionally and spiritually moved by the socially conscious storyteller and photographer, and we wanted to know more about Reed's life beyond the page. So today we put the focus on our wellness editor by sharing more about her. The Sunday night routine, how her weekend rituals set her up for success, and why encouraging breathing and calm is so important to reduce stress and control those cortisol levels. Because just as a good night equals a good day, a happy Sunday brings a happy week.
Read on to learn more about Riley Reed's Sunday Night Routine …
Prioritize rest.
I do my best to block out Sundays to rest, but if I'm honest it doesn't always happen that way (working on the boundaries of work). Whatever happens, I leave the second half of the day open to flow freely so that I can start my Sunday night routine in the early afternoon. Much of my week is a mad rush. I have a tendency to underestimate how long things take. Time, in essence, is elusive. With a long Sunday afternoon / evening routine, I don't have to worry about packing things. I can finally relax and let things happen however they can.
Take it outside.
My Sundays are often spent with my husband, Jack. If it's sunny, we love spending the day outside. We will hike or take a dip in Barton Springs. It is so nice to be together in nature, even if it is just a walk in the neighborhood with our dogs. The sun sets in front of our house, beyond the oak trees and I love to see it just before it splashes through the glass of our front door.
Walking without a phone feels rhythmic and meditative. Allow my mind to think freely with each step.
Sometimes I go with my husband, Jack, so we can share our thoughts. There is something so close in walking in step with someone you love. Movement encourages dynamic conversation or comforting silence. It is a great way to sync body and mind. Starting and ending the day with a walk feels cyclical and ingrained. It also relaxes our young and energetic Pitbulls.
2 of 4
Photo by Whit mcguire.
But first … clean!
I start Sunday nights with a walk before scanning the house to make sure it's clean and tidy. My days are so busy and with a good chunk of my work at home, things definitely add up. While maintenance is ideal, it is not always possible. Someone has to concede.
I like to use Sundays as a reset, clean slate. The sound of the dishwasher and clothes is soothing and relaxing. It feels like you're literally washing away the dirt for the week.
I wash my hair once a week (maximum). It is an important process and usually involves a hair mask that takes time to work its magic. It's true that Jack and I tend to have Eurostyle dinner (quite late). I'll start cooking around 7pm (while my mask does its job) and I'm going to love making a batch of nut muffins for the week while things simmer. I have a tendency to skip breakfast and, personally, it doesn't prepare me for a lot of energy or productivity. Nut muffins are easy to drink and a great source of nutrition. After dinner, I wash off my hair mask and do my skincare routine.
Jack and I are huge moviegoers. We love being nerdy in movies and shows. Right now we are actually in Mare of Easttown. Before going to bed, I do a big brain dump, jot down my wins and lessons from the previous week, and scan my schedule for the following week to make sure I have everything in order. Sometimes I meditate for a few minutes, other times I read some pages of a quiet book, always with a lit candle. We usually turn off the lights around 11pm.
Favorite cleaning product: Branch Basics
Favorite candle: Diptique Baies
Favorite hair mask: Curls Blueberry Bliss hair repair mask
Favorite mask: Cosmedix
Start your nightly routine in the morning.
As a soloist and artist, every day is Wednesday. My "fears" are not specific to Sundays, but I have anxiety at night. In fact, I recently had a panel where I learned that my cortisol rises between 7 and 9 pm. When I feel anxious, my energy rises and my brain tends to spiral. I worry that I haven't done enough or will miss something the next day. I conjure up falsehoods and worry about anything that comes up in my cyclical thoughts.
To combat increased stress and embarrassment, I actually do my best to have an efficient morning. Steven Pressfield talks about the small earnings that lead to productive work and a calm mind. I exercise early and follow a regular supplement routine. I don't drink coffee after 10 am and I keep it in a mug. In this way, my body can maintain its balance and establish itself steadily as the day progresses. In the evening, I like to sum up my accomplishments and lessons for the day and my intentions and priorities for the next day.
Mantra I love: Wholeness and fluidity.
Write it.
If I work Sunday night, it's just writing. It is the day to clean, to reset. No matter what I write, I feel like I'm doing it. I think a lot … almost all the time … and many times about serious or esoteric things. Writing allows me to empty my mind so that I have more space to relax, have fun, and spend quality time with my relationships.
Turn off your phone.
I am very careful not to see anything that activates or to check some accounts (email, bank, Instagram, etc.). There are too many external forces that could affect my thinking and I can't afford that on a day off. I also do my best to save Sunday nights for myself and Jack, which means I can't socialize outside the home. Much of my work is dedicated to people. Setting that limit is really important.
Make space.
In the past, I had a lamp, a candle, a dream journal, moisturizing oil, and the current book that I am reading. But we recently got rid of our nightstands while redecorating our bedroom. I have loved having a clear space next to the bed. I heard that the bedroom should be dedicated to sleep, privacy, and nothing else. There is something so beautiful, simple and sacred in that intentionality.
Prepare in advance.
I keep it simple with a batch of nut muffins for mornings on the go. I prefer to cook throughout the week.
Make it cozy.
Stunned but amazed! Love your sheets. We have this tonal set selected. (Note that the brand is currently in "hibernation" for a month and will return in mid-July).
Read!
I read recently Clare and the sun and I finally made it through Atomic habits. Currently reading Gloss.