A virtual meeting between US President Joe Biden and Chinese President Xi Jinping has taken place – with the Chinese leader greeting his US counterpart as his "old friend".
The supposed friendly correspondence comes amid rising tensions between the two superpowers.
Sky correspondents Tom Cheshire and Joe Pike offer some of the expert insights below on: meeting of the two leaders – and what are the possible outcomes of their discussions.
Analysis by Tom Cheshire, Asia correspondent
We don't have much substance to go on – three hours president biden other Xi Spent talking in depth won't get published – so it makes sense to talk about the tone.
And regardless of the difference between we other China, it's familiar.
This is, effectively, a zoom meeting and the two leaders give each other waves of cheer when they see each other. It feels surreal considering the US accuses China of genocide.
Joe Biden be thankful Xi Jinping to congratulate him on his election and reminisce about the time they spent together earlier. Xi called Biden an "old friend of mine".
It may seem frivolous to focus on the social good, but Biden has made it clear that his brand of diplomacy starts with personal relationships.
And this is the most important geopolitical relationship in the world: if both leaders understand each other, there is little room for the kinds of mistakes that can lead to conflict. Biden emphasized this, saying that the two "never went away wondering what the other was thinking".
That's especially important when it comes to Taiwan, which China says is a "red line" ahead of the meeting. Official US policy has been described as "strategic ambiguity".
That doesn't mean that the US couldn't be more explicit in private conversations – and what Biden tells Xi will be crucial.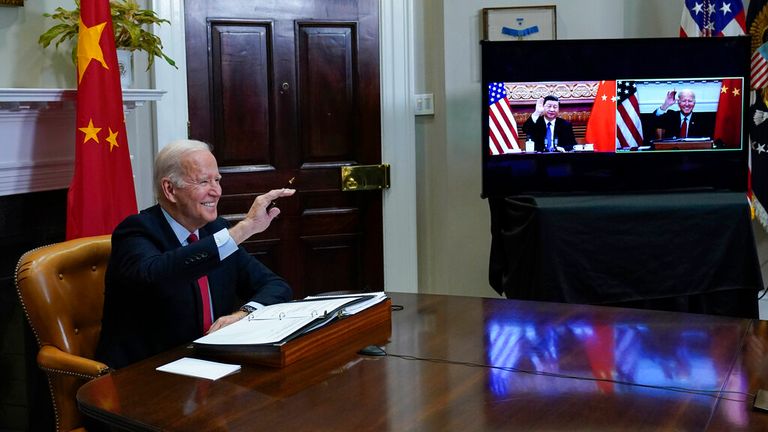 As for China, it clearly wants to soothe the fractured relations between the US.
But it will not succumb to other aspects, such as the repression of Hong Kong and Xinjiang.
This meeting gave China a bit of room to breathe. It would be fair to ask what the US got in return.
Analysis by Joe Pike, political correspondent, in Washington DC
The choreography is warm and simple, with Biden and Xi briefly reminiscing about their journey together as vice presidents.
This masks the ice, tension and mistrust that is the reality of relations between the two countries – particularly in Taiwan, a topic that tends to dominate discussion.
Secretary of State Anthony Blinken's warning last week that the US and its allies would "take action" to defend the self-governing island is unlikely to be a useful start to this bilateral meeting.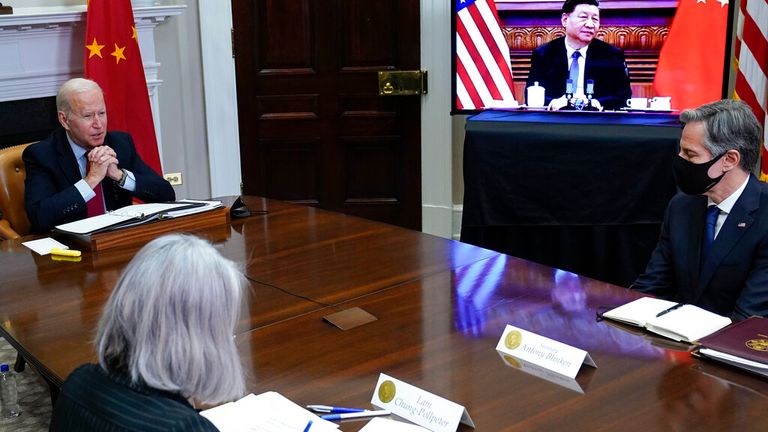 The White House would love that the two men actually met, having only spoken twice by phone since Biden took office. It doesn't help that Xi hasn't left his country in nearly two years, partly because of the pandemic.
Presidents find themselves facing a very different political future. Xi tightened his grip on a third five-year term. Meanwhile, Biden is losing: in the polls, and possibly next year in Congress.
Follow the Daily podcast on apple podcasts, Google Podcasts, Spotify, Spokesman
US-China cooperation has made progress on addressing global warnings, with a surprise bilateral climate deal last week. But competition is also fundamental to the relationship, particularly in terms of technology and industrial policy.
It's too early to tell if the relationship is melting. After a tense past few years, expectations in Washington are low. But talking face-to-face, even if virtually, is progress.
Relations with Beijing will likely remain Biden's most pressing foreign policy priority.